Contact Us for a Consultation
Roy M. Hartman
Co-Managing Director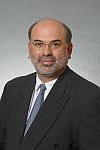 Two Datran Center - Suite 2000
9130 South Dadeland Boulevard
Miami FL 33156
Phone: (305) 371-8797
rhartman@sacherzelman.com
Download vCard
Roy M. Hartman, a Director of the Firm since 1992, is a member of the Firm's highly experienced complex litigation practice group which represents accounting firms, banks and financial institutions, and private litigants, including regulated professionals, in such diverse matters as securities litigation, RICO, and other complex litigation matters.  Mr. Hartman also heads up the Firm's bankruptcy and creditors' rights practice.  He is a frequent lecturer to accountants and attorneys on matters pertaining to professional liability claims, securities regulation, Sarbanes-Oxley, lender liability, creditors' rights, and bankruptcy issues, among other topics.  He is also a Florida Supreme Court Certified Circuit Civil Mediator.
Mr. Hartman earned his Bachelor of Arts degree from Miami University in Oxford, Ohio in 1977, and his law degree from the Thomas Franklin Backus School of Law at Case Western Reserve University in Cleveland, Ohio in 1980. In 1980, Mr. Hartman became a member of the Ohio Bar, and in 1981 he was admitted to The Florida Bar. Mr. Hartman is also admitted to practice before the U.S. District Courts for the Southern, Middle, and Northern Districts of Florida; the U.S. Bankruptcy Courts for each of the Districts in Florida; the U.S. Courts of Appeal for the Second, Fifth and Eleventh Circuits; and the U.S. Tax Court.
Prior to the Sarbanes-Oxley Act of 2002, Mr. Hartman's practice primarily involved litigation concerning accountant's liability, and financial fraud. With the advent of Sarbanes-Oxley, the Firm, and Mr. Hartman in particular, has developed a vibrant, nationwide Sarbanes-Oxley practice, with Mr. Hartman's focus on advising accounting firms on SEC regulatory compliance, PCAOB compliance, and avoidance of accountant's liability claims.
Mr. Hartman has spent his entire legal career in Miami. Prior to entering private practice, Mr. Hartman spent over three years with the Miami Branch Office of the Securities Exchange Commission in the Enforcement Division. At the SEC, he investigated public companies, transactions of broker dealers and investment advisors and the securities transactions of private individuals and entities.
Mr. Hartman is well versed in the Sarbanes-Oxley Act of 2002, the progeny of SEC rules promulgated thereunder, as well as the standards of the Public Company Accounting Oversight Board. Mr. Hartman has lectured on these matters, as well as accountant's liability under state and federal laws.
After he left the SEC, Mr. Hartman began his private practice with Mershon, Sawyer, Johnston, Dunwody and Cole, and later with the national law firm, Weil, Gotshal and Manges in their Miami office.
Mr. Hartman has also actively represented both secured and unsecured creditors, debtors and trustees in bankruptcy matters. Within this context, Mr. Hartman has handled claims of fraudulent conveyance and bankruptcy preference, stay relief litigation, objections to claims, and non-dischargeability of particular debts due to allegations of fraud.
As a result of his representation of financial institutions and other creditors, he is equally experienced in foreclosure and replevin actions, mechanics' lien litigation, defense and prosecution of claims of lender liability, actions based on fraud or breach of fiduciary duty, letter of credit transactions, contract and business disputes, and securities fraud actions. Mr. Hartman also is experienced in alternative dispute resolution methods such as mediation and arbitration.  Mr. Hartman also advises business clients on labor law issues and loan and other contractual workouts.
Mr. Hartman has litigated matters in the State and Federal court throughout Florida and in such diverse and varied locations as New York, Philadelphia, Washington, D.C., Atlanta, Phoenix, and Pensacola. Mr. Hartman has also prosecuted and defended arbitration cases before the AAA.
Married and a father of two sons, Mr. Hartman was active in the Plantation Athletic League as a team sponsor as well as a former league administrator.
Areas of Practice:
75% Litigation & Appeals
25% Advising Clients on Business Law & Regulatory Issues
Florida Supreme Court Certified Circuit Civil Mediator
Alternative Dispute Resolution
Arbitration
Banking & Finance Law
Bankruptcy Law
Bankruptcy Litigation
Business Organizations
Class Actions
Collections & Repossessions
Commercial Bankruptcy
Commercial Banks
Complex Litigation
Construction Contracts
Construction Law
Construction Liens
Contracts
Creditors' Rights
Debt Discharge
Debtor/Creditor
Deceptive Trade Practices
Employment Contracts -- Employer
Employment Law -- Employer
Federal Appellate Practice
Federal Trial Practice
Foreclosures
Garnishment
Government Construction Contracts
International Banking
International Transactions
Labor Law
Legal Malpractice
Letters of Credit
Loan Workouts
Mediation
Mortgages & Foreclosures
Other Professionals Malpractice
Professional Malpractice Law
Reorganizations & Restructuring
RICO Act
Secured Transactions
Securities Fraud & Insider Trading
Securities Law
Shareholders' Rights
State Appellate Practice
State Trial Practice
Trade Regulation
Transactions
Unfair Competition
Uniform Commercial Code
Wage & Hour Laws
Warranties
Workouts
Wrongful Termination
Bar Admissions:
Ohio, 1980 (Inactive)
Florida, 1981
U.S. Court of Appeals 5th Circuit, 1981
U.S. Court of Appeals 11th Circuit, 1983
U.S. Court of Appeals 2nd Circuit, 2011
U.S. District Court Southern District of Florida, 1981
U.S. District Court Middle District of Florida, 1986
U.S. District Court Northern District of Florida, 2004
U.S. Bankruptcy Court Southern Florida, 1984
U.S. Bankruptcy Court Middle Florida, 1986
U.S. Bankruptcy Court Northern Florida, 2004
U.S. Tax Court, 1983
Education:
Case Western Reserve University Law School, Cleveland, Ohio, 1980, J.D.
Honors: Member, Jessup International Moot Court Team 1979-1980
Honors: 2nd Place, Jessup International Moot Court Regional Competition, 1980
Honors: Best Brief, Jessup International Moot Court Regional Competition, 1980
Miami University, Oxford, Ohio, 1977, Bachelor of Arts
Honors: With Honors
Major: Political Science
Minor: Pre-Law
Representative Cases:
UBuy Holdings, Inc. v. Gladstone, 340 F.Supp.2d 1343 (S.D. Fla. 2004)
Compania de Elaborados de Cafe v. Cardinal Capital Mgmt., Inc., 401 F.Supp.2d 1270 (S.D. Fla. 2003)
Financial Federal Savs. & Loan v. RTC, 57 F.3d 1025 (11th Cir. 1995)
In re F & C Servs., Inc., 44 B.R. 863 (Bkrtcy. S.D. Fla. 1984)
Standard Chartered Bank v. Klepach, 43 B.R. 571 (S.D. Fla. Bkrtcy 1984)
Classes/Seminars Taught:
Lecturer at the 2018 Annual Show of the Florida Institute of Certified Public Accountants (FICPA) on "Recent SEC and PCAOB Fraud and Enforcement Actions Against Accountants and Auditors," September 28, 2018
Lecturer at the 2018 Annual Show of the FICPA on "Why It is Important to Have Client Engagement Letters for ALL Client Engagements, Even for Tax Engagements," September 28, 2018
Presenter before the Miami-Dade Chapter of the FICPA on "Why It is Important to Have Client Engagement Letters for ALL Client Engagements, Even for Tax Engagements," August 28, 2018
Presenter before the Miami-Dade Chapter of the FICPA on "Special (Not Your Every Day) Issues That Can Confront CPAs and Accountants," August 28, 2018
Lecturer at a CPE Seminar Presented by the Florida Gold Coast Alumni Chapter of Alpha Kappa Psi on "Maintaining Required Independence in the Practice of Public Accounting," June 22, 2018
Presenter before the Palm Beach Chapter of the FICPA on "Why It is Important to Have Client Engagement Letters for ALL Client Engagements, Even for Tax Engagements," June 12, 2018
Presenter before the Palm Beach Chapter of the FICPA on "Special (Not Your Every Day) Issues That Can Confront CPAs and Accountants," June 12, 2018
Presenter at the AANGFL Network Speaker Series Luncheon on "Special (Not Your Every Day) Issues That Can Confront CPAs, Attorneys, and Other Professionals," November 16, 2017
Lecturer on "Evading Enforceability Issues and Effectively Negotiating Conditions" at the National Business Institute CLE Seminar on "Advanced Business Contracts:  Secrets Only the Top Attorneys Know," October 24, 2017 
Lecturer at the 2017 Annual Show of the FICPA on "Recent SEC and PCAOB Updates and Recent Fraud and Enforcement Actions Against Accountants and Auditors," September 29, 2017
Lecturer at the 2017 Annual Show of the FICPA on "Why It is Important to Have Client Engagement Letters for ALL Client Engagements, Even for Tax Engagements," September 29, 2017
Lecturer at a CPE Seminar Presented by the Florida Gold Coast Alumni Chapter of Alpha Kappa Psi on "Issues for Auditors to Address to Avoid Potential Professional Malpractice Claims and Other Problems," June 16, 2017
Lecturer during a CPE Seminar by the Florida Gold Coast Alumni Chapter of Alpha Kappa Psi on "Issues for Auditors to Address to Avoid Potential Professional Malpractice Claims and Other Problems,"​ June 9, 2017
Lecturer before the South Dade Chapter of the FICPA on "Avoiding Litigation Risks and Potential Malpractice Claims by Addressing Issues that Arise During Audit and Tax Engagements," May 17, 2017
Lecturer at the Annual Tax Update seminar presented by the Cuban-American Certified Public Accountants Association on "Why It is Important to Have Client Engagement Letters for Tax Engagements," February 4, 2017
Lecturer before the Atlantic Chapter of the FICPA on "How An Effective Client Acceptance Process Can Help Avoid Potential Malpractice Claims," December 20, 2016
Lecturer before the Atlantic Chapter of the FICPA on "Do's and Dont's When An Accountant Receives a Subpoena," December 20, 2016
Lecturer before the Broward Chapter of the FICPA on "Some Ways to Avoid Potential Professional Malpractice Cliams in Audits (and Other) Engagements," November 15, 2016 
Lecturer at a CPE seminar by the Florida Gold Coast Alumni Chapter of Alpha Kappa Psi on "Do's and Dont's When An Accountant Receives a Subpoena," November 11, 2016
Lecturer at a CPE seminar by the Florida Gold Coast Alumni Chapter of Alpha Kappa Psi on "How An Effective Client Acceptance Process Can Help Avoid Potential Malpractice Claims," November 4, 2016
Lecturer at the 2016 Annual Show of the FICPA on "Recent SEC and PCAOB Fraud and Enforcement Actions Against Accountants and Auditors," September 29, 2016
Lecturer before the Miami-Dade Chapter of the FICPA on "Do's and Dont's When an Accountant Receives a Subpoena," July 19, 2016
Lecturer before the Miami-Dade Chapter of the FICPA on "Issues to Consider When a Client of the Accounting Firm Files for Bankruptcy Protection," July 19, 2016
Lecturer before the North Dade/South Broward Chapter of the FICPA on "Some Ways to Avoid Potential Professional Malpractice Claims in Audit Engagements," May 4, 2016
Lecturer before the Broward Chapter of the FICPA on "Not Your Every Day (Legal) Issues that Can Confront Accountants (Sometimes Out of the Blue)," January 25, 2016
Lecturer before the Broward Chapter of the FICPA on "Do's and Dont's When an Accountant Receives a Subpoena," January 19, 2016
Lecturer before the South Dade Chapter of the FICPA on "Avoiding Litigation Risks by Maintaining a Proper Client Acceptance Process," November 18, 2015
Lecturer at the 2015 Annual Show of the FICPA on "Recent SEC and PCAOB Fraud and Enforcement Actions Against Accountants and Auditors," September 18, 2015
Lecturer before the Atlantic Chapter of the FICPA on "Some Ways to Avoid Potential Professional Malpractice Claims in Audit Engagements," August 25, 2015
Lecturer at the Fifth Annual South Florida Premier Labor and Employment Conference on "Legal Issues to Consider When a Key Employee Leaves the Company" and "Do's and Don'ts When the Company Receives a Subpoena," August 6, 2015 
Lecturer before the North Dade/South Broward Chapter of the FICPA on "Do's and Don'ts When an Accountant Receives a Subpoena," July 1, 2015
Lecturer before the Palm Beach Chapter of the FICPA on "Some Ways to Avoid Potential Professional Malpractice Claims in Audit Engagements," June 23, 2015
Lecturer before the Broward Chapter of the FICPA on "Issues to Consider When a Client of the Accounting Firm Files for Bankruptcy Protection," June 16, 2015
Lecturer before the Miami-Dade Chapter of the FICPA on "Some Ways to Avoid Potential Professional Malpractice Claims in Audit Engagements," January 27, 2015
Lecturer before the Broward Chapter of the FICPA on "Good Practcies to Attempt to Avoid Potential Litigation Risks -- Before, During, and After the Client Engagement," January 19, 2015
Lecturer before the South Dade Chapter of the FICPA on "Do's and Don'ts When an Accountant Receives a Subpoena," November 19, 2014
Lecturer before the Miami-Dade Chapter of the FICPA on "Avoiding Litigation Risks by Maintaining a Proper Client Acceptance Process," October 28, 2014
Lecturer at National Business Institute Seminar on "Protecting the Creditor's Rights During Bankruptcy" on the topics of "Miscellaneous Creditors' Rights" and "The Automatic Stay," December 6, 2010
Lecturer at Lorman Education Seminar on "Sarbanes-Oxley Act" on the topics of "Internal Auditors' Role and Interaction With External Auditors Under Sarbanes-Oxley All Guided by the Audit Committee" and "Update on Select, Important Cases Under Sarbanes-Oxley," February 7, 2007
Lecturer at Halfmoon Education Seminar on "Legal Issues for Florida Accountants" on the topics of "Avoiding Professional Liability Actions" and "Handling Current Legal Issues in Accounting Practice" (Sarbanes-Oxley Act and other legislation, PCAOB compliance, independence issues, and ethical case studies), May 11, 2006
Lecturer on Sarbanes-Oxley Issues and Requirements at continuing educational seminars for attorneys and CPAs
Lecturer on Regulations on Banks/Thrifts Advertising, South Florida Compliance Association
Lender Liability, South Florida Secured Lenders Group
Lecturer on Article 9 of the UCC
Lecturer on Creditor's Rights/Remedies in Bankruptcy Cases
Past Employment Positions:
Weil, Gotshal & Manges, Senior Litigation and Bankruptcy Associate, 1987 - 1990
Mershon, Sawyer, Johnson, Dunwody & Cole, Senior Litigation and Bankruptcy Associate, 1983 - 1990
United States Securities and Exchange Commission, Enforcement Attorney, 1980 - 1983
Fraternities:
Honors and Awards